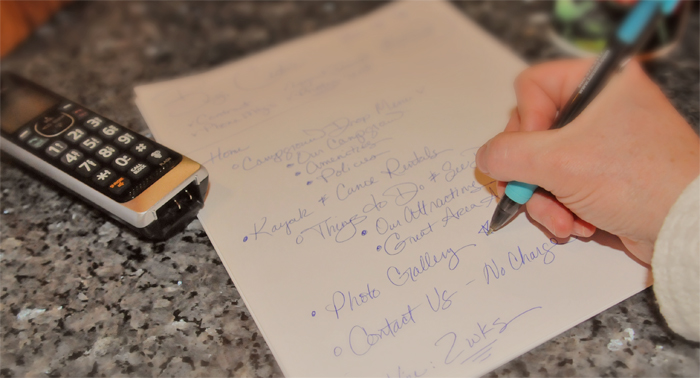 How Do We Begin?
We begin your project with a discussion about your needs. We look at your services, products and goals and layout the right amount of pages that will give you good honest "organic" content. The following bullet points are the ingredients for a good website:
◊ Excellent organic content
◊ Search Engine Results with derived from specific pages that we can focus on a category / subject to bring those top phrases up in searches.
◊ A clear understanding on what you are delivering to the browser / client with the use of design, text and photos
◊ Great navigation with a "fixed" or "sticky" menu that travels down with the browser (as they scroll - like this website does), this way, any page is just a click away
◊ Clear social media logos that connect from your website to your business pages
After we decide upon your layout, we then provide you with a proposal and after this is accepted, we sign the contract to begin the project. If we are working long distance and completely through digital tools, we ask our clients to collect good photos for their new website along with writing up text and bullet points so that I can create the content necessary to communicate with your future browsers and potential customers. After the site is complete, we give you a non-published view of the site so that you can review your new website before going "live".

Our Michigan Web Design Portfolio
We have a great modern portfolio to highlight the work we have done for all sizes of websites. We are helping companies overcome the hurdles of this pandemic by working from home. We can work with you through the phone and emails. When we work on your website, we completely focus on you and your goals. We invite you to view our Michigan web design portfolio, visit some of the sites, view through different platforms — your PC, cell and tablet. We do work from small to large scale. We especially enjoy working on small businesses, telehealth, lodging and restaurants. We want to see these people thrive, overcome obstacles and surpass their dreams.
♦ Our MI Web Design Portfolio

"We want our clients to succeed, thrive, be found on the web, and overcome today's hurdles. We strive to reflect your organization or company's goals. Call or email us today for a free quote, we are excited to hear from you."